---
Living Gracefully Dying Gracefully

A tribute to a loving father by Peter Glover
---
Mother (Mrs. Nat Glover) found the original Newspaper write-up about Howard and Fannie's wedding - Click here to see it.

AND... a precious 1923 picture of Nat and Winnie - Click here

---
Family Cookbook
(Mary) Caroline (Boone) Alford has spent the last 15 years compiling her favorite family recipes - some 418 pages of mouthwatering delights! Barnes and Noble Bookstores may put it in their southern stores as a regional interest book.
The title is Southern Cooking with Caroline. It has a lot of helpful information for beginning cooks, and all the steps are numbered for easy use. Knowing Caroline's family I can personally guarantee that this book is the only one you will need.
You can order it from her website at:


http://southerncookingwithcaroline.com


and she does accept payments via Paypal.

---
Most recent update to our family records - Caroline has been diligent in attempting to keep it current - somewhat difficult given the absolute number of marriages and babies. Thanks to Caroline.
2014 update
---
Do you have any old pictures you would like to have scanned and perhaps published on this site for others to share and enjoy? We will scan them for you. Just let us know.

---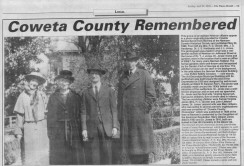 Great Picture in Easter 2003 Newnan Times Herald of Grannie, her father Dr. Jones along with the Reverend and Mrs. Hardaway. Click on the picture for an enlarged view.

A Bit of additional history on the Jones side of the family
---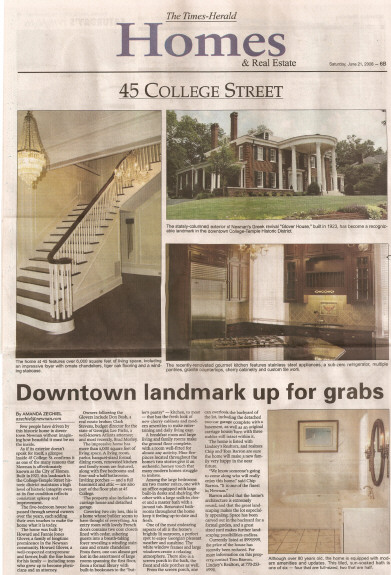 45 College Street. Here's a write-up in the Newnan Times Herald about the home. Many significant changes have been made. Click on the picture for a more readable view.

---
Trimble (Boone) Family

Aunt Winnie found this picture of a school in Hogansville taught by Frank Trimble and his wife Fannie. Grannie (Fannie Jones Glover) referred to them as Cousins. The picture was taken about 1890. On the reverse side was a listing of the names (click
here
for a pic of the reverse side)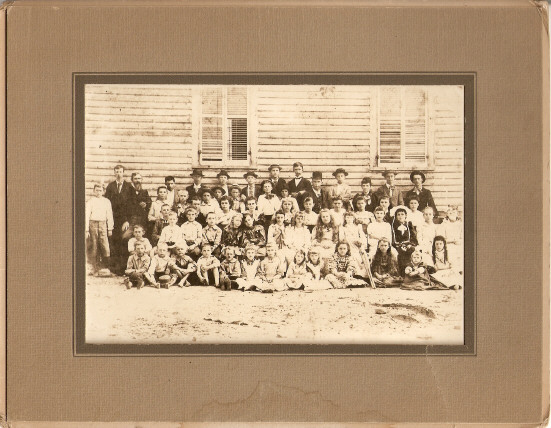 Also, Caroline has done significant research on some of the Trimble papers. See them here.
---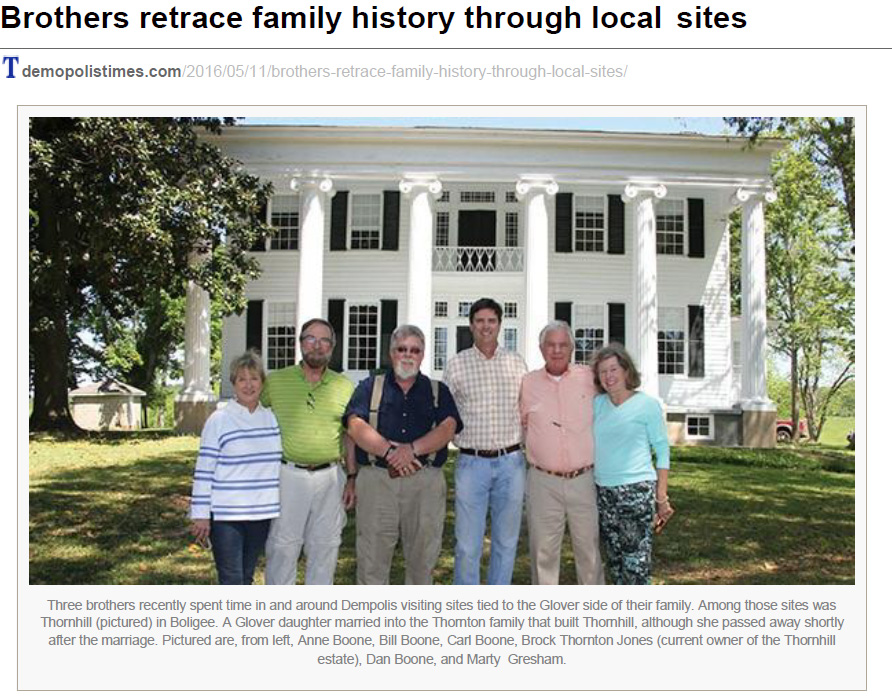 Click on the above picture for the full story
---
Found these videos that Dad (Dr. Nat Glover) took of the family. The video below is of Granny, Pop, Mary and Frances around 1947. The baby is me with Mom (Bobbie Glover). To see other movies, click on the "playlist" button below twice and chose the movie to watch.
OOPS!
You forgot to upload swfobject.js ! You must upload this file for your form to work.
---
---
---
---

Inez Taylor Glover
I

nez Taylor Glover, 96, died peacefully in her home in Newnan, Georgia on Monday, January 2, 2017. Mrs. Glover was born in Greensboro, Georgia on November 24, 1920 and was the daughter of Landrum Sanford Taylor and Ethel May McMichael.

She was one of five children. Her bothers Lamar "Acie" Taylor and Jack Taylor preceded her in death, and she is survived by her sisters Ginny Taylor Clevenger of Calabash, NC and Betty Taylor Stovall of Atlanta. Inez married Clifford Banks Glover, Jr. from Newnan, Georgia on April 28, 1945, and together they had three sons. Gandy Glover lived in Newnan and died on April 24, 2011, and Taylor Glover and Peter Glover both live in Atlanta. Mrs. Glover's husband Clifford Glover died on June 18, 2007.

click here for full obituary
---
A Gift in Memory of Merrie Boone
(click pifor full view)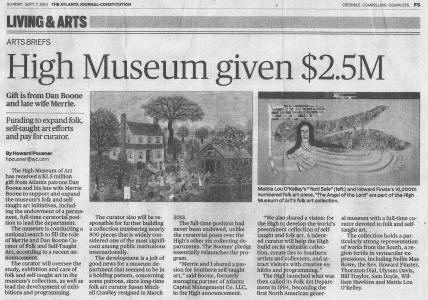 ---
Aunt Becky's Cookbook
Rebecca Knight Glover - aka Aunt Becky, was the wife of Clifford Banks Glover, brother of our grandfather Howard Clarke Glover. Aunt Becky was renown for always having treats for her guests.
Caroline Boone Alford, our family epicurean and cookbook publisher in her own right, has researched the very best of Aunt Becky's famous recipes and has offered them here for free. Click here to view, then right click to save the booklet to your computer.
---
New Stories
While cleaning up some computer files, I found two more wonderful stories... One was written by Aunt Mary Glover Nixon in April 1978 and put into a local time capsule. It covers her memories of early Newnan. This is a must-read.
A second story was a fiction/non-fiction story written by cousin Susan Glover Logan, titled Aunt Penny. This was a play on names as it was about her memories as a child visiting Aunt Jenny (Virginia Glover Cook Graham)
Click here to go to the stories page.
---
Glovers of Marengo County
I have been searching for a copy of this definitive work of research for many years.. finally found it and was able to scan into pdf format. This traces the Allen Glover and associated families.

---
Do you ever get the feeling that you might be a bit Irish? I found some ancestors who were landed gentry - Mount Glover in County Cork Ireland.